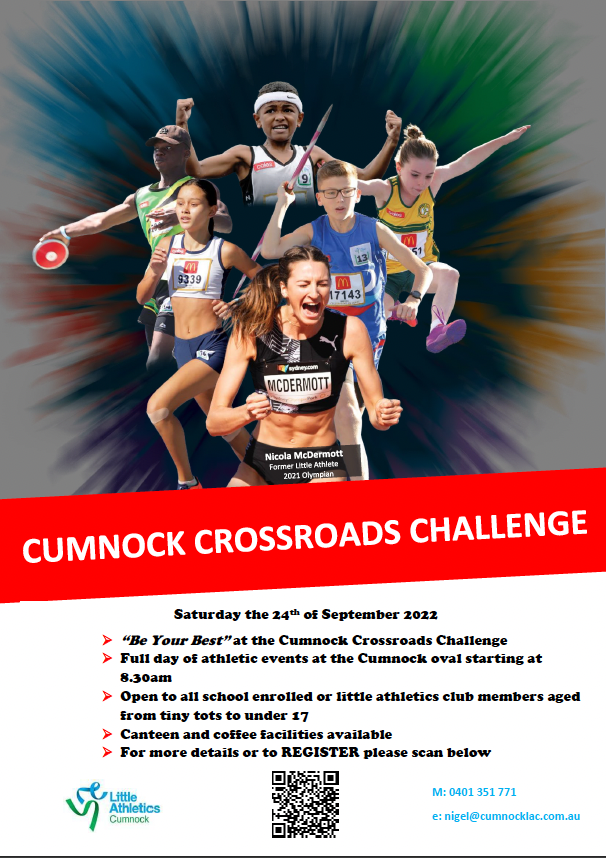 Date
24 Sep 2022
Expired!
Crossroads Challenge Gala Day – Cumnock Little Athletics
Cumnock Little Athletics are holding their Crossroads Challenge Gala Day on Saturday September 24, 2022. Registration is opened to school enrolled or little athletics members aged from Tiny Tots to under 17.
Link to the Facebook Event Page can be found  HERE
Event Lists can be found HERE (also attached)
More details and to REGISTER click HERE
Entry fee is $ 5.00 per event.
The carnival will commence at 8.30 am.
Athletes will report to the registration desk to receive their event entry tickets. Free entry for Tiny Tots events.
Track marshalling is at the track marshalling tent, Field events to marshal at events.
Athletes are responsible to be at marshalling before their event.
All athletes from Tiny Tots to under 17s MUST be registered on the online event portal to be able to compete.
Medals will be awarded to the top 3 place getters for both boys and girls.
Canteen will have a range of hot foods and drinks from 8.30am.
There will be a coffee van and soft serve ice cream van available as well.